Handbag:

RSPCA charity shop (UK)
Earrings:

Christmas present from my Ma
All dressed up this week! It was Mr Bear and I's five year anniversary on Saturday and we went for a very nice three course dinner at the newly re-opened Curator's House in the Botanical Gardens (literally a two minute walk from our flat).
It was the most expensive meal I've ever had but the tastiest too, by a long shot! My taste buds were bombarded by the house speciality chorizo, brandy duck and the classic strawberries and cream. We also indulged in a $52 bottle of Greystone Pinot Grig, which was divine!!
As we left the restaurant, Mr Bear asked if I'd like to go on an evening walk around the gardens, perhaps to my favourite miniature stone bridge by the rock pools..? I declined as the weather was dreary and my legs were turning to stone so we tottered off home.
Upon arriving home, I noticed Mr Bear was acting strangely. He told me there'd been something he really wanted to ask me that evening but the rain had stopped us from going on a walk and spoiled his plan. 'Ask me, ask me', I squealed! Before I knew it, he was down on one knee with my grandma's ring in his hand, saying lots of lovely things including the words 'Marry Me'. That's right, we're engaged!!!
The first thing I could think of after I'd said yes without a moment's hesitation, was that I was so chuffed I'd been wearing my peachy dress which I'd picked out with my friend Gabby as 'the dress I want to be proposed to in'!
Here's a snap of my beautiful ring. It means so much to me. I remember sneaking into my Mum's room as a little girl and looking through her jewellery boxes to find it (she hid it somewhere different every time).
Martin wanted to choose one himself but we have come to a compromise and decided to have it altered with a leaf set either side of the flower.
I'm so excited!!! Be prepared for many updates and wedding related posts from now on guys!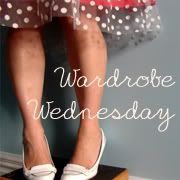 Make sure you pop over to Miriam's too. This week she's discussing why we dress the way we do and how others perceive us.